ZEN Wading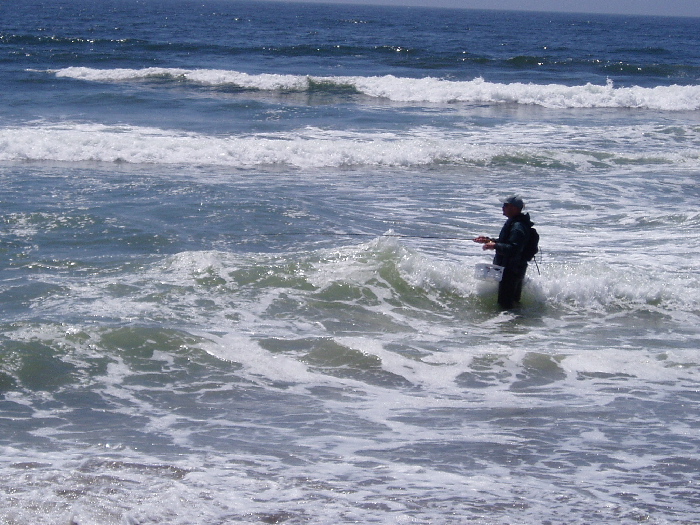 Zen wading involves movement and positioning in the surf with heightened awareness of sensed conditions:
swell patterns over time,
swell directions, swell height,
hydraulic forces of water movement,
your buoyancy,
your immediate bottom contour, texture, bottom lumpiness,
topology of the beach around you,
debris on beach and in water,
wind speed and gust patterns,
beach walkers near and in the distance, and
presence of birds and sea mammals.
Awareness of these conditions will come naturally as you gain more experience on the water.

Gary C is shown above, wading in nice waters during a July 17, 2003 trip. There is a flats area behind him and he is turned to the South fishing a big productive cut that is flowing diagonally to deeper water. He was wading aggressively and larger waves would periodically hit him.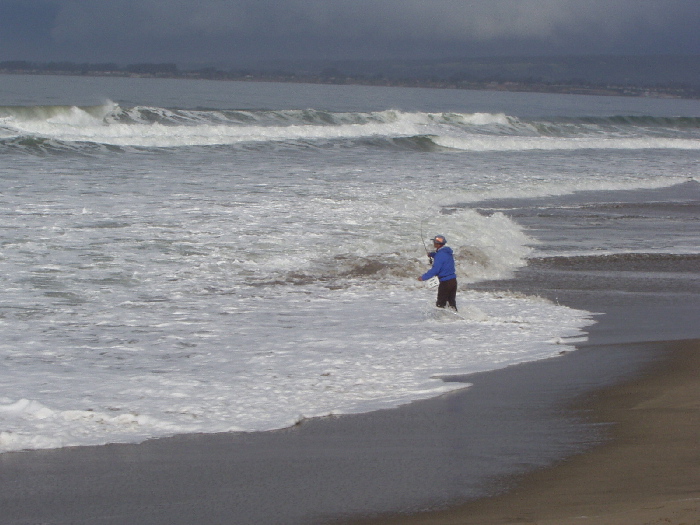 I usually wade very actively when I'm searching for fish. I search waters wading to the North or to the South while working a promising area. I go deeper and retreat as the swell pattern works through its cycles. At times, I have to retreat at full speed to avoid a larger wave. Sometimes, I have to let the hydraulics of a wave push me back as I maintain balance by bouncing on the sand. In any case, I'm always adjusting position. I usually go deeper to cast. I back-up after hooking-up to land the fish. I work back and forth and in the direction of the side current while retrieving to aid in line control. At times, you can not strip fast enough to maintain contact with your fly and moving back helps. Under low light conditions, I may have back completely out of the water so I can cast to find fish in the shallows.

Knee-to-ankle deep is too deep at times. Examples are shown above and below (Jim T and Jim B during April 2003 trip - with winter swells).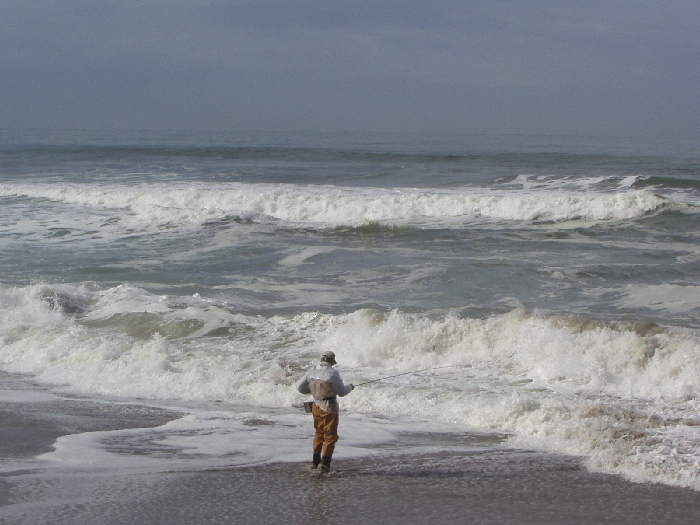 I've heard from a few readers who had bad experiences on their first surf fishing trip. You have so much to think about while fly fishing in the surf. Wading safely takes experience so wade conservatively as you are learning. If you are aware of potential hazards, you will be safer as you gain experience. There are a lot of potential hazards. I've experienced most of them. I did not get knocked down in the 2004 season so I have learned a thing or two. I did get knocked down during an early 2005 trip. It takes a while to get your sea legs back so be extra cautious at the beginning of the season especially with larger and more chaotic winter swells.

Hazards/Precautions:
Larger waves caused by surges surprise you. Swells come from distant storms in the North Pacific and South Pacific and from local winds. Different swells interact and can cause surges that are much larger. These surges are usually periodic so you can have a period of smaller waves followed repeatedly by larger waves. In any case, you should watch the incoming swells to warn you of impending hazards.
Large wave knocks you down. If you go down sideways, the wave may roll you around. The shear force of the wave can do this alone or if you are too deep, buoyancy can cause loss of traction on the bottom and the wave sweeps you away - you lose balance. Once I fell forward because I was wading too deeply and buoyancy lifted me and the breaking forces knocked my feet from under me. I think it is safer to let a surge push you back while bouncing on the bottom while keeping your balance rather than trying to hold your ground. You need to have good balance to do this well!
Strong back-wash pulls you to deeper water. This is especially dangerous on steep beaches. It happens when you are wading too deeply and the water level causes you to lose traction on the sand due to buoyancy and the hydraulic forces of the back-wash pull you into deeper water. If you turn sideways before the pressure builds up, the force generated pulling you seaward will be lower. Also, work back from the water to get more of your body out of the water.
Unstable inside edge caves in when you wade too close to a near-shore trough. This usually happens on steep beaches and beaches with deep areas (troughs, cuts, holes) near-shore. One step too far and the edge caves in and you sink into water that is 1 to 4 feet deep. If a back-wash hits simultaneously you are going to get wet. The photo above shows a particularly deep near-shore ledge. You can see it as the darker colored water beyond the foam. One step too far and you would have been in 3 to 4-foot waters. If you do a Tai Chi walk, you will always have control of your center-of-gravity. Do not commit weight to your next step until it has found secure footing.
You trip on a large object (drift wood, large stone, old tire, pile of seaweed...). I frequently see large object that have drifted on to the beach that get buried in the sand. A large tire got me once as I was walking back to avoid a large wave. I got wet. As you move within the surf, keep track of these objects and avoid them.
Surging breaker hits you with such sustained force that it channels cold water up your parka and into your waders. It is amazing how wet you can get. Your parka acts like a fire hose and channels water. Water can shoot all the way up to your neck and down into your waders. You can prevent this by wearing a belt over your parka. The elastic waist draw-string in some parkas is not strong enough stop a strong surge. Use a belt made for waders (like the Hodgeman's).
Wave from an adjacent area wraps behind you and clips you - your knees collapse and you go down. I've seen this at most beaches during part of the season. It happens on beaches with bottom topologies that cause surges to be stronger in adjacent areas. There are some beaches like Its Beach (North of the lighthouse near the steamer break) that frequently have these kinds of waves. It can surprise you if you focus on waves just in front of you. You have to be aware of the wave action in adjacent areas too.
Step into small swash zone hole which throws you off balance. I've experienced great holding water on flats where the bottom was just pocked with small holes as shown in the photo to the right. If you do a Tai Chi walk, you will always have control of your center-of-gravity. Do not commit weight to your next step until it has found secure footing. There also is the occasional only hole around so your standard walk should be a Tai Chi walk to keep out of trouble.
Looking down while wading in the swash zone, the movement of water disorients you and you lose your balance. Shooting line has tangled around your feet while wading and you reach down to untangle it. You get an illusion of movement in the swash zone and vertigo sets in. Try to back to shallower water first. Be aware of the wave action and do not look down as the wave is moving water by you.
Wave hits with such force as you stand with locked knees that your knees get hurt. Some waves hit with a jarring force. Standing with knees bent protects your knees. .
Large seaweed mass wraps around your feet - you lose your footing. You have to be aware of seaweed and other debris while casting to avoid tangles. Most beaches have a long-shore current that moves debris to the South or to the North. I find that you can have terrible debris conditions in one area that clears up if you move along. If you can fish but still have large masses of weeds floating by then move up current of its drift path and continue fishing.
You step in a sink hole while crossing river mouth - you sink helplessly. The muck in the hole acts like quick sand. Your boots get suck as you sink helplessly. Cross as close to the surf-zone as you can. Use a Tai Chi walk. to feel your way across the river. .
Large floating drift-wood drifts into you. I've heard of people almost getting clobbered by large floating logs in the surf-zone in Northern California. I've seen large logs on Monterey Bay beaches so it must be a source of hazard here too, especially during winter and early spring with heavy water flows in local streams and rivers. Watch for floating debris!
People and their dogs walk into your back cast area and your backcast hook them. Many of our Monterey Bay beaches have a lot of people and dogs walking and running. You should routinely check up and down the beach and keep track of people and dogs. If you are casting like a machine to cover water, the casts have to be timed to avoid people and dogs as well as timed after a wave breaks. This usually is not a problem on flat beaches because you are wading further out. People walk on wet sand because it is packed and easier to walk on. They usually do not notice a fly fisherman's back-cast. On steeper beaches, it is easy to hook people or animals that are passing.
A wave explodes in swash zone and drenches you. This happens on steeper beaches when wave energy hits a drop-off. I've seen waves go twice overhead with mild swell conditions on steeper beaches. Keep track of explosion events and avoid wading there.


Summer and Fall bring smaller surf and easier wading but you should still maintain vigilance to stay dry and safe. I have had easy wading days with gentle surf and low hydraulic forces. I have even caught a lot of fish on these days but this is rare. Water turbulence is usually required to churn up forage and the larger swells usually push more water up on the beach to cause the moving water (river in the surf) that creates great holding water.

I subscribe to premium services at Surfline so I can plan my trips. It has forecasts of wave height, swell period and swell sources and surf cams.

A Zen state involves heightened awareness of every thing including things that you didn't notice before.

Published : September 24, 2005

Questions or Comments Contact: Glenn Yoshimoto
glenn@zenflyfishing.com
Los Gatos, California



zen fly fishing home

This page &copy Copyright 2005, Glenn Yoshimoto