The Pied Piper of Perch: Fishing with a Legend.
For a long time, I've heard stories of someone that fishes Santa Cruz area beaches. People speak of him with reverence. The stories are of him catching several fish in succession in the same water that they were fishless in. I called him to ask how perch fishing had been for him this year. He described one awesome day this year at Seascape in a school of large Walleyes. Otherwise, it had been hit or miss. I told him that I have been doing well. He asked where and we decided to meet and fish together the next day.

I was on the water at 5:30 am and started getting hits right away. I saw a fisherman walking towards me in the distance. The bite got better as he got closer. When he was within shouting distance, I got a solid hit and landed a nice 1 pounder as he walked up.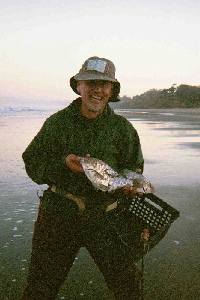 We greeted and started fishing together. He caught a small perch so I thought we were on our way to a great experience together. I was getting nice perch almost every cast for the next hour. At one point, he asked to see my fly and said that he wasn't getting hits. I was using my Surf Miki. I gave him one and he tied it on. At another point he asked what line I was using, I said leadcore but that I suspect that his high density head should be fine but he changed it anyway. I landed a few doubles. I hooked a large Jack Smelt that jumped 1-foot out of the water before I landed it. I got a solid take and heavy throbs of give and take and finally beached a 1 1/2 pounder. He said: "That is a nice fish!"

While the fish were still on the bite, the gentlemen said that he was leaving and that this has not been his day. I wanted him to catch fish. I wanted to figure out why he was not getting fish, but he reeled in, thanked me for the experience and started walking away. I continued to catch fish as he walked slowly down the beach. He paused to watch a pelican in flight and stopped to inspect wash up on the beach.

As he faded into the mist, so did the bite.

I wanted to see this gentleman land a lot of fish, but instead I had one of the best early morning bites on larger fish in his presence. It was as if he attracted perch, but not for his own benefit. As he walked away and as the bite faded to nothing, it seemed that the perch followed him to honor his humility.

Yes, he gave me the experience of thinking that I out fished a legend

but I'll not be fooled...


Questions or Comments Contact: Glenn Yoshimoto
glenn@zenflyfishing.com
Los Gatos, California



zen fly fishing home

This page &copy Copyright 2002, Glenn Yoshimoto