Zen Fly Fishing: Exciting Moments
On this page, find short stories of the really exciting moments I've had. They may pre-date my recent interest in fly fishing in the surf.
Striper Blitz in the Surf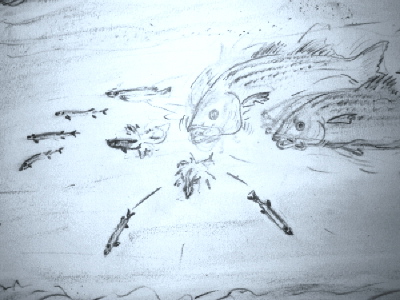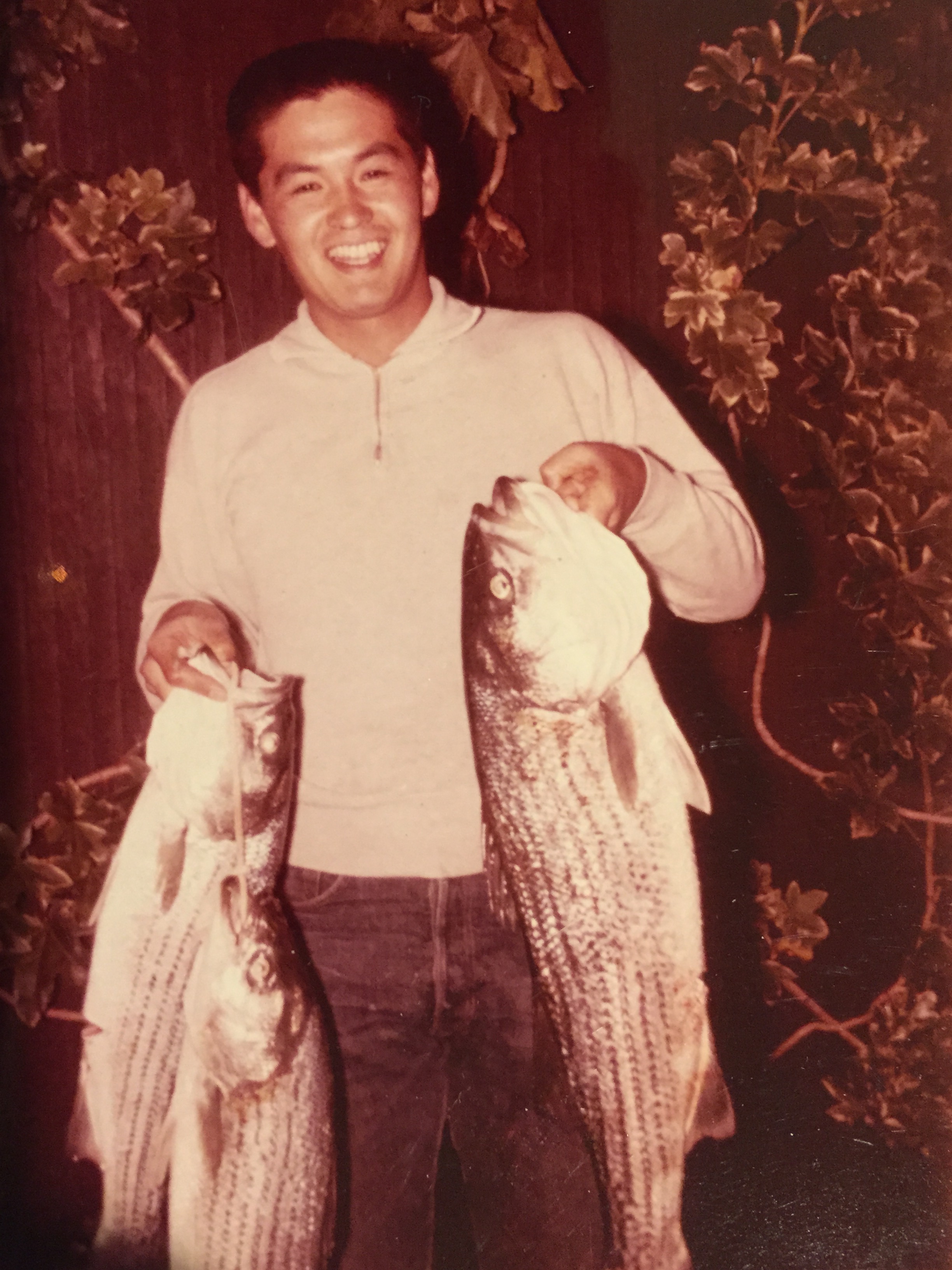 I fished with conventional gear at SF area beaches in the mid-1960s. There was one summer that I fished a lot but the big runs were in decline and were not that frequent. I had gear in car and would take off for the beach after a days work in Sunnyvale, CA (about 50-miles south of SF). One day on Ocean Beach near Taraval Street, the birds were working where a large school of stripers had driven anchovies into the surf. I was already geared up in waders and ran to the beach. I could see anchovies being washed up on the beach. The surf was over head high. As the swells peaked, I could see the silloettes of stripers in pursuit of ancovies in the crests of waves. Panicked anchovies were going airborne through the face of the wave. My first cast connected. Over the next 20 minutes, I landed my first and hooked and landed 2 more (a limit of 3 stripers in those days). They were 16-lbs, 10-lbs and 8-lbs as you can see in the photo on the right which I recently found in an old album. I have heard that there are still occasional blitzes - I hope to relive this experience some day using flies.
Surprise While Dipping Flies for Bluegill.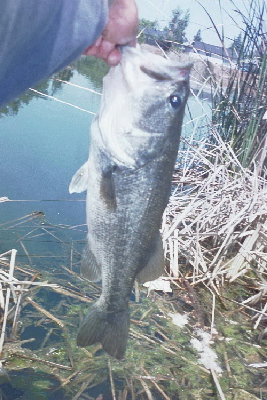 Our local ponds provide nice, close access for fish fixes. I am within 15 minutes from many wonderful ponds that have fish that take flies. Other fisheries were shutdown so I went out with small flies in search of bluegill and small bass at one of our local ponds. One pond had an inlet that served to connect it to upstream ponds. There were frequently bluegill in the area. I dipped my small olive bead-head bird's nest nymph into the current flow. I see a large dark form floating up and saw that it was really nice large mouth bass. It casually inspected the little fly then casually inhaled it. I set the hook then BANG - it took off for deeper water. After a some give and take, I beached it on the weed bank. So apparently, the bass was lying in wait for bluegills but was willing to eat anything no matter how small. What a wonderful surprise! A two pound largemouth bass caught on a size-14 fly.
Questions or Comments Contact:
Glenn Yoshimoto
glenn@zenflyfishing.com
Los Gatos, California



zen fly fishing home

Last Revised: June 4, 2015

This page &copy Copyright 2003-2015, Glenn Yoshimoto